Jan 27, 2009
73
2
0
MBTI

ENTJ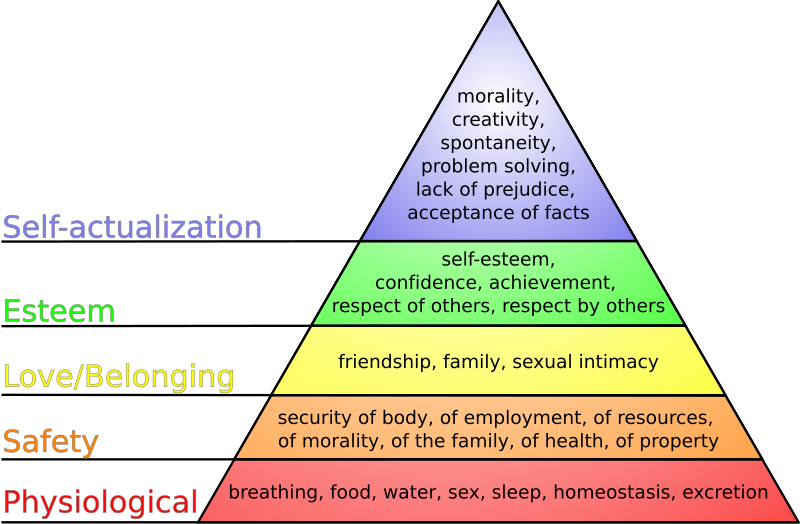 Here I have provided the graph representation of human needs.
What I forward to you, my fellow MBTI users is that each type as arranged to your typology, is based on the hierarchy of needs for the individual.
For example, I as INTJ have a hierarchy of Ni>Te>Fi>Se
Which may be transcribed to Maslow's theory as:
When I am at the basic needs stage (focusing my attentions on these); I will be using Se in charge, for to attain my requirements.
The base needs to be established before the dominant, auxilliary and tertiary functions can operate efficiently.
Seeing as there are 5 tiers, we may assume that higher order trait function requires physiological and Safety requirements to be attained first. This will be the "Base of functioning".
When I am in an evolving self stage (focusing on bettering my security/place) I will establish the requirements for Identity, belonging and relationships. These functions require me to access the tertiary function of Fi in order to know what is significant to me. What I can use to grow and how to achieve my goals.
When I have achieved both my basic needs and Evolved my self, I will then enter into a state of enhancing my place, resources and then my position. This can spur on the development of Te.
Te makes it easier to judge my environment (internal and external), my confidence triumphs with a certain competence in analysing with how this world works; what can I do to improve the reality where I exist. Te enhances the esteem of my comprehension and operations. With practice, further understanding exponentially increases. This becomes more adept as it becomes practiced. Which brings me to believe, that comprehension becomes pre-conscious. Which draws on the ultimate stage
Self-Actualisation stage:
In this stage, Se has already helped me to obtain my basic requirements for life. Fi has done its work in maintaining this balance, perhaps improving it's reliability also. Te, draws the comprehension of who I am, what I am capable of comprehending and how I can take in more and more information to be utilised effectively. Whereby Ni becomes founded.
My intuition works as a high-powered processing of all the other functions. They are effectively running on a continuous basis and interacting to allow more and more data adjoin into a "knowing".
This is only the first rough hypothesis of this theory, but I would enjoy hearing other members contributions. How does this apply to your functions? Can you relate how your traits work to the theory described?
Is this theory too obvious?